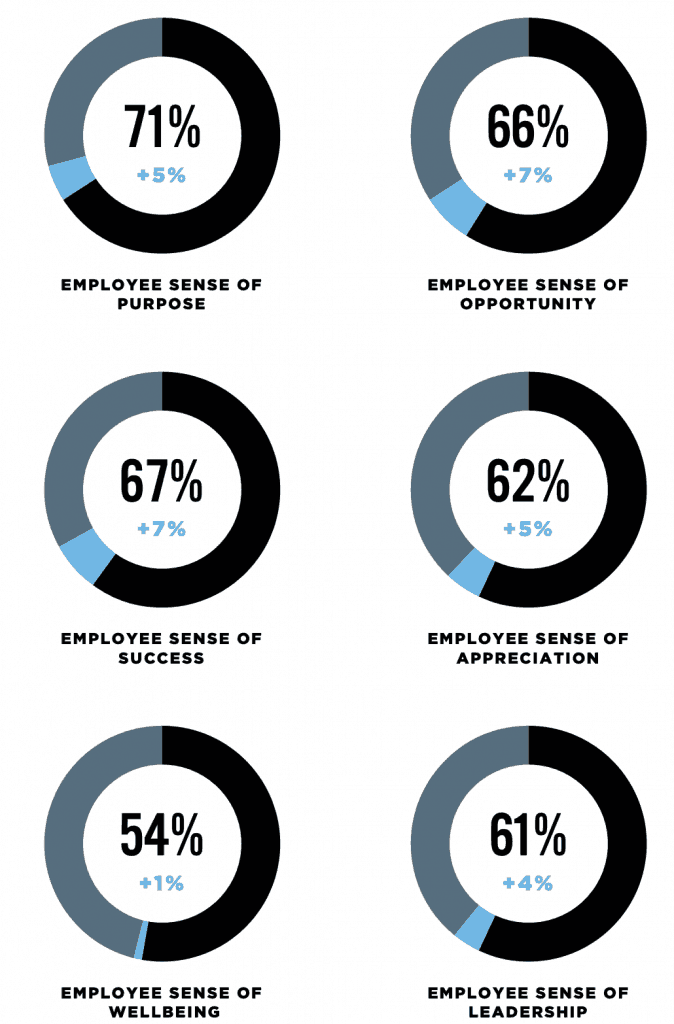 This is a fascinating report that's addressing the "southern" branch of the Chief Leadership Officer Integrity Map: the internal audience of culture and operations. I highly recommend you visit their site and read the free report.
In their 2019 report, they said, "Last year's Global Culture Report identified six core elements of workplace culture that are crucial to an employee's decision to join, engage with, and remain at any place of work. We call them Talent Magnets, because of their power to attract and connect people to their teams and organizations. They are shown here with their corresponding improvement over last year's study."
What struck me immediately and continues to be a source of frustration for me is the first magnet "Employee Sense of Purpose." Thanks to ONPURPOSE.me, we no longer have to settle for a mere whiff or sense of purpose. We can actually know it, own it, build our lives on it, and improve upon it — all from finding a 2-word purpose.
Later in the report, the point is made that improving purpose and meaning in the organization can have very positive impact on two to three of the other magnets.
"Our previous research found that the Talent Magnets are statistically
interconnected. Improve one magnet, and there will be improvements
in the others. This makes logical sense. A meaningful purpose, for
example, creates a feeling of opportunity, which increases the chance
for success. It also positively impacts employees' perceptions of
leadership, and helps them feel an elevated sense of appreciation
and well-being. So improvement in purpose alone can strengthen your
entire culture across the board. The same is true for every magnet."
Preach it!
And to think, that's just an update on the 2019 Global Culture Report!
A highlight of the O. C. Tanner current report is the concept that team members (they call them employees) define their "employee experience" as "micro-experiences" that have peaks and valleys. Fortunately, the peaks sustain four weeks while the valleys maintain for only two weeks. In short, people offer a certain degree of grace.
However, consider my take on this aspect of the report. If a team member experiences five valleys for every one peak, then the power and impact of the peak never rises to its potential. The difference between a great workplace and an average or bad one may very well come down to a concept as simple as the leaders understanding and appreciating the "peaks and valleys" model in their daily conversations and interactions.
CLOs, as great as this report is, it is still a report of existing companies. As a CLO you'll read between the lines of the report and see that even the companies most progressive at rewards and recognition for creating culture are still doing business incompletely right. For all the contemporary concepts and terms used, the old Industrial Age management theories are still alive and well in large corporations.
As a mid-market CEO making the shift to a CLO, you can gain an advantage in the battle for the best and brightest minds because your culture can be that much more nimble and better than your corporate counterparts.
O. C. Tanner, like On-Purpose Partners, is a business reformer that's bringing the emphasis back to the core purpose of business and its relationship to people and society as a profitable proposition. Their report, for all its good news and progress, is still subject to the state of the organizations being surveyed. I acknowledge O.C. Tanner as a thought leader in this people and cultural space. Hidden between the lines of the report is that these large companies are striving for progress but hamstrung by their Industrial Age–based management model.
Much as it is difficult to turn an aircraft carrier at sea, the momentum of their past keeps large corporations mired in the maze of incremental improvement and change management. CLO is disruptive and risky to the big dogs. Yet the CEO who decides to make the transition to CLO by embracing the three charges of a CLO will finally get the full effects of innovation over incrementalism.
What a wonderful discovery to know that a complementary company like O.C. Tanner exists in the marketplace of ideas. I feel like I've gone on some DNA company website and found a branch of the family I didn't know existed.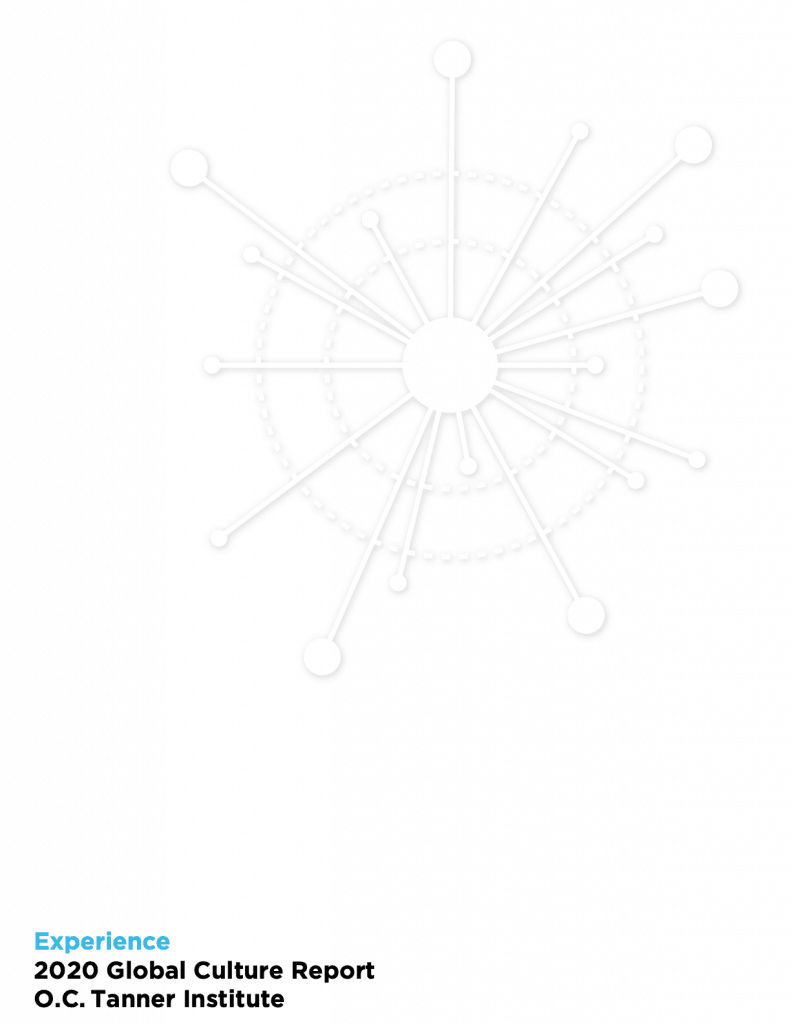 Here's the PDF of the O. C. Tanner report. Do yourself a favor and download it plus visit their site. As a CLO, you'll learn a lot and will pick up three to five ideas you can readily implement to improve your corporate culture.