Purpose, Vision, Missions, Values Analysis
September 5, 2022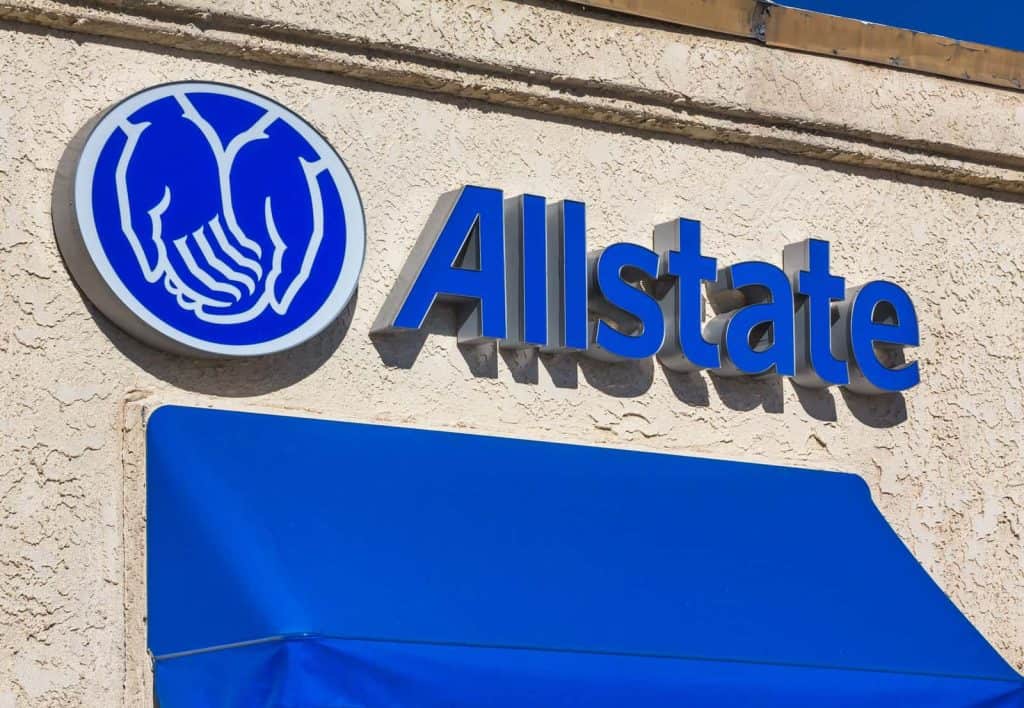 Overall Analysis: Allstate is sincerely and thoughtfully missing the mark about its purpose. Like many large corporations, leadership commingles purpose, vision, and mission. As a result, Allstate offers no unifying or powering-up of purpose, only missions erroneously labeled as "Our Shared Purpose." In short, the good intentions of the "Good Hands People" to state their purpose is a typical strategic mishmash descriptive of what they do but unclear about who they are. Team members remain mired in the momentum of the antiquated CEO Industrial Age mindset of "just do your job" with no sense of significance or belonging. Sadly, this dulling effect on their strategy, culture, brand, performance, shareholder return, and community contribution is an all-too-common occurrence.
Scroll down for further context and analysis of Allstate Insurance Company.
For an analysis of your company purpose, vision, missions, and values, order the PVMV Analysis Package appropriate for the team member size of your company.
FYI: Defining PVMV and more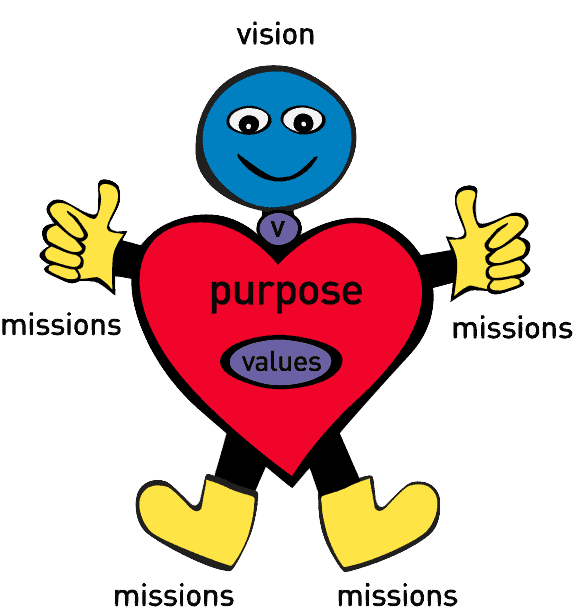 The lack of standard terms within the fields of leadership and strategy necessitates clarification of the following terms so we can be on the same page:
Purpose is why the organization exists, which links its past, present, and future.
Vision is where the enterprise is headed to realize its promise.
Missions are the day-to-day activities of the company.
Values are the basis for making decisions.
Promise is the highest, noblest, and best use of one's potential — like a calling.
On-Purpose is the alignment of Purpose, Vision, Missions, and Values in service to the Common Good.
CLO (Chief Leadership Officer) is the top company officer, formerly known as the CEO, who is modernizing the company to lead in its field by developing a company of leaders mutually aligned to a shared purpose.
As Stated: The PVMV of Allstate Insurance Company
Allstate's public presentation of "Our Shared Purpose" is found below on the screen capture from the Allstate sustainability website under the Governance tab.

Right from the start, this "purpose" is a paragraph, whereas a purpose statement epitomizes the "less is more" approach. The more words the more easily it is forgotten; makes it fraught with leadership, operational, and ethical loopholes; and it is irrelevant to day-to-day decision-making.
In Allstate's case, Our Shared Purpose lives under the Governance tab and is public relations and true leadership and strategy. Environmental program? Check. Wellness program? Check. Diversity program? Check. Purpose statement. Check. Insincerity isn't the issue. Seriousness of the matter is.
PVMV are essential leadership and strategy statements for defining and clarifying for those who lead and work within the company culture and create the brand. What Allstate has written here is so typical of safe corporate speak. While "The words we live by" provides a solid setup, what follows are three mission statements collectively labeled as "Our Shared Purpose."
Hand or hands symbolize mission. Use of "As the Good Hands… " indicates Allstate has mission statements mislabeled as purpose. Oddly, for "The Good Hands People," their forever brand positioning isn't mentioned. Why is their core slogan truncated to just "Good Hands"? Is this oversight or neglect, or is there some undisclosed shift in the brand at work?
Next in "Our Shared Purpose" comes a series of We–They (company-to-customer) outer-directed mission statements. Company-centric language is also indicative of mission statements because it tells others what "we" do, not who we are.
"We empower customers with protection to help them achieve their hopes and dreams." Use of "We empower … " is old-school, command-and-control, company-centric language implying customers don't have the power to protect themselves. In this light, it reflects a politely played corporate arrogance. Allstate has ample competitors. Customers have options to exercise their freedom of choice, perhaps switching to those that are customer-centric.
"We provide affordable, simple and connected protection solutions." Here's a statement of what they do — a mission with qualifying standards (affordable, simple, and connected) added for good measure. Surprisingly, nothing in "Our Shared Purpose" mentions insurance. This would seem to be a natural place for inclusion.
"We create opportunity for our team, economic value for our shareholders and improve communities." Here's a bland stakeholder benefits statement indicating Allstate understands its broader audiences of team, shareholders, and community. Notice how the audience and respective benefit are segmented. Compare this to an inclusive statement such as: "Creating opportunity, economic value, and improvement for our team members, shareholders, and communities."
Note: Allstate's use of "Team" is a preferred CLO term over employees. This usage, however, is dropped in favor of "employee" throughout this website and its career site. The use of "employees" and "empower" are indicators of the paternal CEO-system embedded in their culture.
Proposed PVMV: What could be Allstate's 2-word purpose? Several came to mind, but what's being proposed is "Protecting Value."
Insurance, Allstate's core business, does that. Protecting Value is a prima facia fit. Value is the financial worth of a property or the earning capacity of a person or business, and insurance offers a degree of security to mitigate adverse effects.
Below the obvious, however, "Value" are those people, things, and experiences held dear. Value is also the hopes and dreams of every customer, shareholder, team member, and those in the community. At an even deeper cosmic or spiritual level, Value translates to the innate dignity and humanity of every person having significance and worth.
A 2-word purpose statement alone is energizing. Flanked with and focused on Vision, Missions, and Values for implementation — it is the unifying power plant for the corporate culture and brand. Here's the missing edge of individual and organization alignment.
Here's a consolidation of the reading of the strategic tea leaves at Allstate as an example of an improvement.
Purpose: Allstate exists to serve by Protecting Value
Vision: The Good Hands People
Missions (all stakeholders):
Securing hopes and dreams
Creating wealth-building opportunities
Delivering affordable, simple, and connected insurance and financial solutions
Values: The Allstate values are screen captured below. Suggesting specific values is beyond the scope of this instructional analysis. Some commentary, however, is offered in hopes the reader avoids Allstate's pitfalls.

When integrity is stated as a value, be nervous. Here's a problematic setup for unending failures and growing dissension in the ranks. Without a compensating value such as grace or forgiveness, the company culture will eventually turn on itself. Worse, Allstate states integrity is "non-negotiable." This begs the question, "Integrity … based on whose and what standard?"
Warning — controversial statement coming! "Inclusive Diversity & Equity" is a necessity only in the CEO-run businesses systemically dehumanizing people by using derisive terms such as "employee," "human resources," or "human capital." Either all people are respected for their innate dignity and worth, or no people are respected. The Good Hands People are, unfortunately, in good company when it comes to fumbling this ball because the majority of the Fortune 500 use the same pejorative terms to describe people with souls.
Further undermining this "value" is the use of "unique identities." Race, gender, religion, sexual preference, political party, and such are identifiers, not identity. Identifiers are on the outside of a person. Identity lives on the inside and is informed by a personal 2-word purpose.
"Collective Success" harkens back to Orwell's book Animal Farm warning of Karl Marx. Giving Allstate the benefit of the doubt, their choice of words in this third value is clumsy at best. Taken at face value, however, and with "Integrity being non-negotiable," this is a clearly stated telltale sign of an oppressive regime subjugating individuals to the greater good. Contrast this to the CLO-approach where "collaborative success" and "common good" are the standards for stakeholder success.
Summary: Allstate means well, but, like so many large corporations, it is stuck in the momentum of the past and just painting over its mid-20th Century mindsets by checking the boxes of fashionable governance and political correctness. These are signs of managing, not leading.
Words are powerful tools in the hands of creators. For organizational leaders, the words Purpose, Vision, Missions, and Values form the core expression of corporate governance, culture, service, and promise that produce a robust understanding of profit. Semantics matter, especially when shareholders number in the thousands, over 45,000 souls work in the company, and millions of customers rely upon company leadership to be providing value.
For an analysis of your company purpose, vision, missions, and values,
order the PVMV Analysis Package appropriate for the team member size of your company.
Instructional Objective: Contrast the increasingly obsolete CEO-system of management with the Chief Leadership Officer (CLO)-system of leadership so business executives can begin to recognize and question the incompletely right way and dehumanizing manner by which corporations are being run instead of led. Stewardship-leadership is the way for common good capitalism to thrive.
About This Instructive Analysis
Reader Resources:
Book: Chief Leadership Officer: Increasing Wealth so Everyone Profits
Audible Book: Chief Leadership Officer: Increasing Wealth so Everyone Profits
Downloads: www.CLOnow.com. Includes: The CLO Integrity Map, CLO Checklist, The On-Purpose Poster
Target Readers:
Decision-makers with profit-and-loss responsibility
Consultants who facilitate strategy
B-school professors who teach strategy
Disclaimer: This analysis is my opinion based on publicly available documents and the company website for educational use by peer CEO-to-CLOs, consultants, board members, clients, and other interested parties. My intent in contrasting the CEO-system of management and the CLO-system of leadership is to significantly benefit the reviewed company's leadership and the reader's understanding of what's possible as collaborating capitalists aligned for the Common Good. I'm not under contract by the subject company nor have I gained inside access to persons within the subject company.
Kevin W. McCarthy